What to do on your last day before going to the airport:
Here are a few things you can do to kill serveal hours while waiting to get to the airport:
In case you would rather rest in the hotels. These are either in Poipu or very close to the Lihue airport. You can ask for a day stay. Usually, they could offer the day-stay in the last minutes.
- Hyatt (808) 742-1234 (Hyatt does not offer day pass except if you use their spa, they will allow you to enjoy the pool)
- Sheraton (808) 742-1661
- Marriott's Waiohai (808) 742-4400
- Kauai Inn resort (808) 245-9000.
- Motel Lanai (808) 245 2965.
- Kaua'i Palm hotel (808) 246 0908
- Kauai Beach Resort (808) 245-1955
- Kauai Shores Hotel (808) 822-4951

1. For any activities involve getting wet, Poipu beach or Lydgate Beach park are good places to rest, snorkeling, shower & change your clothes. They have several protected shelters, full-bathrooms and nice playground for children.

-If you rent the snorkeling gear from Snorkel Bob's, you can return them in two locations; Koloa or Kapaa. So you can go to snorkeling at Poipu, then go to Lydgate Beach Park (Shelters, picnic tables, bathrooms, showers, lifeguard), Kealia Beach or Kalapaki Beach (good spot for surfing) and return the snorkeling gear at Snorkel Bob's in Kapaa.

2. Plan on visiting spouting horn, and the botanical garden (NTBG's McBryde Garden and Allerton Garden) and shop at the shops near spouting horn

3. Check out the views at Wailua Falls, Opaekaa Falls, and Alekoko Menehune Fishpond on the way to the airport


4. Shop for souvenirs on the last day at Poipu shopping village or Kukuiula shopping village In Lihue you can stop by Hilo Hattie or Walmart before heading to the airport.

5. Have early lunch/dinner at several restaurants near the airport (Kalapaki Beach Hut - watch the ocean, surfers, J J's Broiler, Duke's Kauai, Cafe Portofino Pizzeria, etc).
6. Within Poipu, you can access to several activities and attractions the example below:
- CJM horse back riding
- Spouting Horn
- Hiking: Easy Hike to the lithified sand dune bluff of Makawehi Point and Kawailoa Bay, Allerton Botanical garden (where they filmed Jurassic park egg, The pirate of the caribbean), Zipline, ATV,

7. Check for special event on This week on Kauai: https://www.thisweekhawaii.com/kauai/ Look for an event on your departure day; Hula dance, Local Festivals
This link below also suggest several different activities you can do on Your Last Day on Kauai.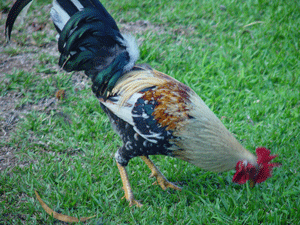 Chicken is every where in Kauai